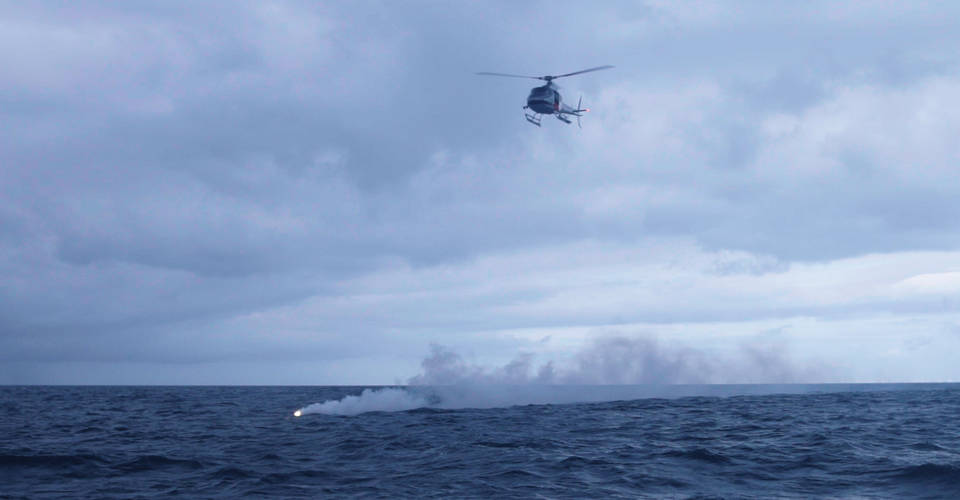 Generator Marine Smoke and Flame L6/L7/L8
Description
The Generator Marine Smoke and Flame L6 / L7 / L8 (GMSF L6 / L7 / L8 ) has been designed to be deployed from fixed wing and rotary aircraft in search activities, or from the back of a ship to provide a smokelight for Emergency Low Visibility Approaches (ELVA). The user will hand-deploy the L6 / L7 / L8, which initiates on contact with salt water, producing a red phosphorus flame and smoke for circa 5 minutes (L6), 20 minutes (L7) and 40 minutes (L8).

Application
This display is unique: on ELVA pilots can use IR vision to locate the smokelight. A string of smokelights guide the user in all weather conditions (including dark and fog) to land on ships as per NATO MMP-02. These are also used under NATO Multinational Tactical Signal and Manoeuvring book requirements for submarine marking from aircraft and search markers. (MTP Vol2, AS102, TA147 & TA148)
Characteristics
Flame height: circa 300mm
Smoke and flame duration:
5 minutes (L6)
20 minutes (L7)
40 minutes (L8)
Delay: 10 seconds + 2 seconds
Operation
Twist activation cap, twist sinking cap, release into salt water.
Unique Selling Points
RAD HAZ compliant to Def-Stan 59-114
ALARP Phosphine evolution using Microencapsulate RP, far superior in tests to Oiled RP l Used by the UK MoD & NATO forces in accordance with NATO MMP-002 and MTP 1(D) Volume 2 l No foreign object debris for use on aircraft
Deployable from over 1000ft (L6 & L7 only)
UN certified for transportation
Tested and qualified reliability of 98+% in accordance with BS6001 and AQL 1.0
No ITAR Restrictions
Operates in 0°c water with 3% salinity
Designed in accordance with STANAG 4497
Storage & Transportation
Qty per box: 4
Hazard class: 1.2G
NEQ: 2.2kg (L6) / 3.2kg (L7) / 13.5kg (L8) GR Wgt: 19kg / 26kg / 52kg
Max / min temperatures: -36°C to +71°C